About Christian Heritage Tour
Explore the highlight Christian sites in Turkey
Christian Heritage Tour is a perfect tour for our Christian guests. During this trip you can understand the importance of these lands in the history of Christianity, while visiting the most important Biblical places in Turkey
Christian Heritage Tour Itinerary
Day 1: Arrival to Istanbul
Arrival to Istanbul. Your driver will meet you at the airport and transfer you to hotel.
Overnight stay in Istanbul
Day 2: Istanbul Old City Tour
Full day tour in Istanbul.
Visit St. Sophia (Hagia Sofia, the former Greek Orthodox Christian patriarchal cathedral),
Underground Byzantine Cistern (Yerebatan),
Hippodrome of Istanbul,
Blue Mosque (The Sultan Ahmed Mosque, magnificient mosque with six minarets),
Topkapi Palace including Harem section (imperial palace of Ottoman sultans),
Grand Bazaar (one of the largest and oldest covered markets in the world).
Overnight stay in Istanbul.
Day 3: Istanbul Tour and Boat Trip
Your guide will meet you in hotel lobby.
You will first visit the Old Spice Bazaar during this tour.
Afterwards you will have Bosphorus cruise by ferry to see the Anadolu Fortress, Rumeli Fortress (no interior visits to medieval fortresses), Old mansions, Waterfront wood houses, imperial palaces, hunting lodges, modern villas on both the European and Asians shores of the strait while cruising.
Your last stop on this tour is Chora Museum (Church of the Holy Savior in Chora, famous for depicting scenes from the life of Virgin Mary),
Return to hotel and overnight stay in Istanbul.
Day 4: Troy, Alexandria Troas, Assos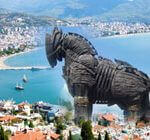 Early departure from Istanbul and 5 hours driving to Troy; you will visit Homer's legendary Troy and see the replica of the wooden horse.
After short drive you will reach Alexandria Troas; St. Paul sailed to Greece from here ( Acts 16:8.); this is also the place where he raised Eutychus from the dead ( Acts 20:5-12). Our final stop during this tour is Assos; on the last leg of his third missionary journey, Paul walked from Alexandria Troas to Assos ( Acts 20:5-6,13-14) where he met his companions, who had gone ahead of him by sea.
Overnight stay in Assos.
Day 5: Pergamum, Thyatira, Smyrna (Izmir)
Departure from Assos and 3 hours driving to Pergamon; in Pergamon you will see the Acropolis, Temple of Athena, Serapis Temple, Heroon, Sanctuary of Athena, Library of Pergamon, Temple of Trajan, Theatre, Zeus Altar, Red Coart. Pergamon is the third of the 'Seven Churches of Asia' (Rev.1:11). This was the place of Satan's throne ( Rev. 2:13).
Our second stop on this tour is Thyatira; it was one of the Seven Churches ( Revelation 1:11;2:18-28) Lydia, the seller of purple, who sold her dyes in Philippi was from this city, (Acts 16:14). Then we will drive to Smyrna (Izmir) the third largest city of Turkey. It was the second city to receive a letter from the Apostle John in the book of Revelation (Acts 19:10). The letter in Revelation (2:8-11) is filled with the affection and joy that comes from triumph over hardship and persecution.
We will visit the agora of Smyrna and Church of Polycarp.
After the tour overnight stay in Izmir.
Day 6: Izmir, Ephesus

After breakfast we will drive to Ephesus (1 hour); St. Paul visited Ephesus briefly during his second missionary journey and stayed there more than three years. Both Paul and Apostle John wrote letters to the Ephesians.
We also visit Baths of Scholastica, Library of Celsus, Temple of Hadrian, the Theater, Temple of Artemis which was one of the seven wonders of the ancient world.
Our second stop will be the Basilica of St. John where you will see the burial place of St. John.
Then we will visit the House of Mother Mary; after the tour we will take you to Kusadasi for an overnight stay.
Day 7 : Priene, Miletos, Didyma

Travel to the Ionic city of Priene, the well-designed Greco-Roman city and the best preserved Hellenistic theater in Turkey to visit the newly excavated remains of a synagogue in the west residential district.
Then visit the Temple of Apollo at Didyma and then continue to the great Ionian port of Miletus, where Paul farewelled the Ephesian elders (Acts 20:17-38) and then visit the newly excavated remains of a synagogue.
Overnight stay in Kusadasi.
Day 8 : Sardis, Philadelphia (Alasehir), Pamukkale (Hierapolis)

After breakfast we will drive to Sardis. Here was one of the seven Asiatic Churches (Revelation 3:1-6). Sardis was the capital city of ancient Lydia. See the early church remaining in Sardis (Sardis Gymnasium, Jewish Synagogue, Diana Temple).
Then proceed to Philadelphia (Alasehir). Philadelphia (brotherly love) is not so ancient as many other cities of Asia Minor, it was founded after 189 BC. It was the seat of the 'Seven Churches' (Revelation 3:7-12).
Then continue to Pamukkale (Hierapolis) to visit the Gate of Domitian, the Arcadian Way, Necropolis and Philip's tomb.
Overnight stay in Pamukkale.
Day 9: Laodicea-Colossae-Antalya (Attalia)
After breakfast we will have a short drive to Laodicea. The final letter of the churches of ancient Asia Minor is to the church in the city of Laodicea.
We visit the Christian Ruins as well as the Statue of Emperor Augustus, Aquaduct, Stadium, Ephesian Gate.
Then drive to the unexcavated city of Colossae (Honaz, Ancient metropolis of Phrygia, the recipient of Paul's letter). The book of Colossians was addressed to the Church here (Col 1:2) and that Philemon lived in this city.
After the tour 3 hours driving to Antalya (Attalia) and overnight stay in Antalya.
Day 10: Antalya – Perge – Side

We will first visit the Greco-Roman city of Perge where Paul gave his first speech on Christianity in the area.
Then we will see the world's best preserved Greco-Roman Amphitheater at Aspendos.
We will also visit Side to see the ancient Theatre, great Gate and Temple of Apollo. Side was one of the towns to which a letter favorable to the Jews was sent by one of the Roman nobles; Lucius (1 Macc 15:23). Overnight stay in Antalya
Day 11 : Antalya, Psidian Antioch, Konya (Iconium)
Drive to Yalvac to visit Psidian Antioch. Here Paul preached his first recorded sermon and uttered his famous words "Now we turn to Gentiles" (Acts 13:14-52).
After the tour we will proceed to Konya (Iconium) via Beysehir Lake.
Overnight stay in Konya.
Day 12 : Konya (Iconium), Cappadocia
You will visit Konya, ancient Iconium; Konya was visited by Paul during his first missionary journey and it is believed that he and Silas visited it again during his second missionary journey (Acts 13:51; 14:1-21;16:2,II Tim. 3:11).
You will see the Mausoleum of Mevlana Celaleddin Rumi (the founder of whirling Dervishes), Karatay Medrese and Ince Minaret.
After the tour you will proceed to Cappadocia (on the way you will visit the Sultanhan Caravansarai from the 13th century).
Arrival to Cappadocia, overnight stay.
Day 13: Cappadocia Tour

Visit Goreme Open Air Museum to see Byzantine Frescoes,
Tokali church,
Basil church,
St. Barbara church,
Dark Church,
St. Catherine Chapel,
Carikli Church,
Nunnery,
the Troglodyte Village of Avcilar,
Ortahisar and Avanos Village and see the fairy chimneys
St. Simeon church at Pasabag (Monk) Valley.
Dinner and overnight at the hotel in Cappadocia.
Day 14: Cappadocia Tour
Optional hot air balloon flight early in the morning (05:00-08:00) which is subject to availability due to weather conditions.
Full day tour in Cappodocia (Cappadocia Derinkuyu Underground city, Uchisar Castle to see the panoramic points to see the cone of Uchisar & Guvercinlik Valley, and Ihlara Valley, which itself alone needs almost a half day to complete).
After the tour transfer to Kayseri airport to fly to Istanbul.
Arrival to Istanbul, transfer from airport to hotel and overnight stay.
Day 15: Farewell
Transfer to airport for your return flight.
The Best Biblical Tour Guide for You!
Our Biblical tour guides are locals who have very good knowledge not only about the sights in the area, but also about the history of Christianity.

They are all fluent in English, and some of them guide also in other languages.

Have the best experience in Ephesus with our expert local guides...