Get to Know Your Turkey Travel Guide
Our agency is a family business run by Ertunga and Maria Ecir, both professional, licensed travel guides. We are based in the Aegean part of Turkey, in the port town of Kusadasi, the gateway to the ancient Ephesus, but we organise and perform tours in all parts of Turkey. Most of our guests come to Turkey for multi day trips, to visit the highlight sights in our country. We enjoy our boutique style job, as organising tailor made Turkey travels has been our specialty for years. As we have experience as private guides, we do know what and how much is doable during your trip! Hidden gems, tourist traps, places off the beaten path, must-dos and places to avoid... Maria is usually the one in charge of correspondence by mails and mostly guides in the Aegean. Ertunga generally does multi day Turkey travels and replies your mails when he is free. We also have a team of travel guides that work with us, all very experienced, reliable and knowledgeable. Our main goal is building up a trustfull surrounding full of satisfied hosts and guests. We hope we will have chance to welcome you in our beautiful country
Ertunga Ecir - Turkey Travel Guide
My name is Ertunga and I was born in 1977 in Kusadasi, where I still live. I graduated from the University of Philology, Department of English Language and Litarature. Since I grew up and have lived all my life in a touristic town, guiding has always been my dream. Very early I understood that it would be the most convenient job for my lifestyle, because I like history, archeology, traveling and meeting different people and cultures, but beyond everything I love my country and would like people to see it's beauty and understand it's history and culture. In 2001 I became a professional Turkey travel guide, with the license issued by the Turkish Ministry of Culture and Tourism. Since then I have been guiding in all areas in Turkey and meeting tourists from all over the world.
Here you can find our tailor-made tours for different regions of  Turkey. https://ertungaecir.com/private-tours/
Maria Ecir
My name is Maria Ecir and I live in Kusadasi. I was born 1981 and have worked in tourism sector for 10 years. I graduated from the Faculty of Philology, Department of Spanish Language and Literature and from the Vocational College for Tourist Guides. Besides guiding in English and Spanish, correspondence with our clients is also a part of my job. I am happy to provide a sample of itineraries upon request based on your needs, and I will be more than happy to show you some parts of this interesting country. I feel very privileged that I have chance to do a job that involves traveling and meeting people from all over the world.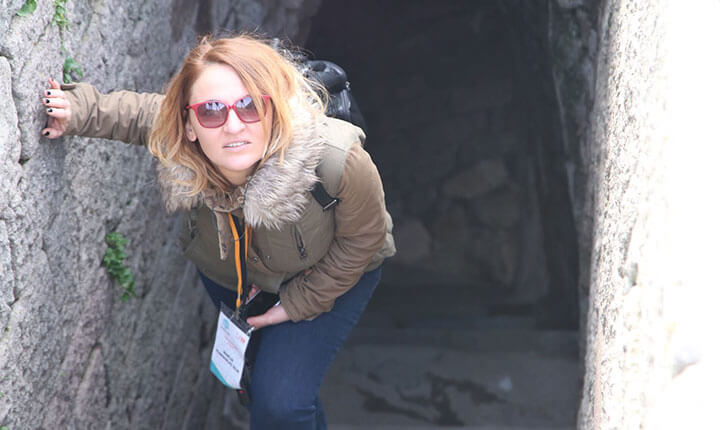 Özgür Dalkılıç
My name is Ozgur Dalkılıç and I am 35. After I graduated from university, where I studied tourism guiding, I started working in 2004 as a professional freelance travel guide. During my studies I had chance to get excellent history and archeology education. I enjoy doing both daily and multi day tours, guiding large and small groups; as I have worked a lot with cruise ship agencies, very often I do private tours too. As I live in Aydin, most of my tours are in the Aegean, but I also work in Istanbul and Cappadocia.

Leyla Basar
I was born in Kuşadası in 1984. I started to learn about tourism when I was young girl, because tourism is the main industry in my hometown and I started working in the bazaars summer times as a seller when I was 12. I graduated form University in 2006 and got my guiding licence afterwards. I started working as a guide in 2009. This is my 6th year but totally 20 years in tourism business – enough to do it with love.

Ugur Kilerci
My name is Ugur Kilerci and I am a licensed professional tourist guide in Turkey. Istanbul is the city where I was born in 1979 and where grew up still live. I studied Economy in Bursa Uludag University 1998-2002 then I started to work in tourism sector as a handicraft expert. During my career in travel agencies I visited Germany , Austria , Belgium and Holland. In 2010 I joined training program of Tourist Guidance held by ministery of culture and tourism and I became an official travel guide. I am licensed in English and guiding is my full-time job. Since 2010 I made tours in all around Turkey with guests from over 50 different countries; I also guided Turkish group in European countries. I had change to guide some well known people such as President of Constitutional Court of Turkey, Owner of the 1998 Nobel Prize in Chemistry, a Knight and Businessman from England, Chairman of the board of Unilever Company, The President of Hong Kong-Singapore business Ass., Deputy Secretary-General of the United Nations.

Sibel Turkmen
My name is Sibel Türkmen. I was born in Urla İzmir in 1982. In 2001 I went to Nevşehir to study tourist guiding at Erciyes University and I graduated in 2005. I have been working for 9 years as a tour guide. I live in Nevşehir at the moment and generally guide in Cappadocia.

Umut Yılmaz
My name is Umut Yilmaz, I am 32 years old and I live in Kusadasi, Turkey. I have been working as a freelance professional tour guide for 4 years. I graduated from University of Selçuk/ Konya , department of  Tourism Guiding in 2012. In 2013 my professional career started. I have been guiding groups throughout Turkey. I love to meet people from different cultures and share my knowledge about Turkey and Turkish culture. I invite you to visit Turkey and explore the amazing history and beautiful nature. You will have a great experience.

Osman Ozmen
Remarkably knowledgeable, energetic and friendly tour guide with more than eight years experience conducting organized tours for groups of tourists in a wide range of locations throughout Turkey; informing visitors about heritage sites and attractions such as stately homes, museums and archaeological sites.
I have been working as a tour guide since 2007 for people from all over the world. I'm fluent in English. I usually take the people to local places for real Turkish experience.
I was born in 1979 in Trabzon, located in northeast part of Turkey.
I graduated from Anadolu University with Management degree and from Selcuk University with Tourism and Hotel management diploma. I also took course in Nevada, USA in Hospitality Management for 18 months.

Didem Tan
My name is Didem and I was born in 1977 in Istanbul. I graduated from Marmara University, Department of Economics in 1999. Having worked for banking, finance and training sectors for many years I decided to turn my hobbies to my profession. Istanbul, where my family has been living for the last four generations, history and meeting different people and cultures was my passion. I grew up with the memories of my family about this fascinating city. So, I decided to be a tour guide and share my knowledge and enthusiasm about my lovely city with the people coming all around the world. I graduated from Kapadokya University, Department of Tourist Guiding in 2018 and became a licensed tour guide of Turkish Ministry of Culture and Tourism. Since then I have been guiding in Istanbul and meeting tourists from all over the world.