About Istanbul One Day Tour
A detailed, comprehensive Istanbul 1 day tour with a local guide...
Istanbul is one of the capitals of the world, and while it is an endless source of inspiration and there is always more to discover in this amazing city, the historical peninsula attracts most attention.
While you are walking in the Hippodrome, the Underground Cistern or when you enter impressive Hagia Sophia, you can try to feel the atmosphere of Constantinople, and in places like Grand Bazaar, Blue Mosque and Topkapi Palace you can easily get the idea about life in Ottoman times. With its famous examples of Byzantine and Ottoman architecture, Sultanahmet district is always one of the favourite places of our guests
Hagia Sophia: The Church of Holy Wisdom, Hagia Sophia is one of the most prominent monuments in the world in terms of art and the history of architecture. It was used as a mosque during Ottoman period and nowdays it is one of the most visited museums in the world.
Byzantine Hippodrome: Hippodrome provided an unrivalled opportunity to show people the emperor's power, wealth and generosity in lavish public entertainments that went on for days at a time, often coinciding with public holidays. The Egyptian Obelisk, the serpentine column and the German fountain of Willhelm II are sites to be visited.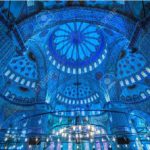 Blue Mosque: its official name is the Sultan Ahmed Mosque, but it is known more popularly as the Blue Mosque because of the blue tiles that decorate the inside walls. There are some 20,000 or so of them, handmade ceramic tiles that decreased in quality over time due to the sultan fixing the price in advance, and not taking inflation into account.
Grand Bazaar: The oldest and the largest covered market place in the world with more than 4000 shops where handmade carpets, jewelery, leather and souvenirs are sold.
Topkapi Palace: The former imperial residence of Ottoman Sultans and one of the oldest and the largest remaining palaces in the world. Today, it is used as a museum to exhibit works of art and many priceless artifacts. The harem section is not included in this tour.

Underground Cistern: The cistern was known in Byzantium as the Basilica Cistern. Justinian was the founder of the largest underground cistern, built after the Nika Revolt in 532. The number of the inhabitants of Constantinople increased and there was a problem with water supply, so the Basilica Cistern was used to store water for the Great Palace.
Hagia Sophia is closed on Mondays and Topkapı Palace is closed on Tuesdays. Grand Bazaar is closed on Sundays.
We can customise your Istanbul full day tour.  Contact us for details.