8 days Istanbul, Cappadocia, Pamukkale and Ephesus Tour
This The best experience with a professional tour guide in Turkey
If you are planning to stay 8 days in Turkey and see the highlights of this beautiful and interesting country, this is the best option for you. You can arrange accommodation yourself or, if you prefer, we can suggest hotels depending on your budget and preferred hotel standard.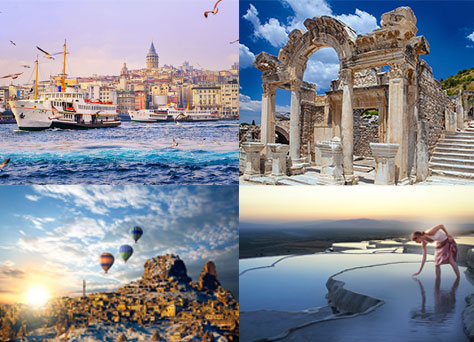 Turkey Itinerary For 8 Days
Day 1: Arrival to Istanbul
Arrival to Istanbul.
After you meet your driver, you will be transferred to your hotel in Istanbul.
Overnight stay.
Day 2: Istanbul Old City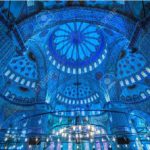 Guide will meet you in hotel lobby and take you to the walking tour of Istanbul Old City:
Byzantine Hippodrome (used for public entertainments organised by emperors),
Sultanahmet Mosque (Blue Mosque, famous for its tiles),
Topkapi Palace (imperial residence of ottoman sultans),
Hagia Sophia (Church of Holy Wisdom, museum that used the be the biggest Orthodox church in the World),
Grand Bazaar (the oldest and the largest covered market in the world).
Overnight stay in Istanbul.
Day 3 : Istanbul Tour and Bosphorus Boat Trip

Guide will meet you in hotel lobby and take you to another walking tour in Istanbul:
Archaeology Museum,
Basilica Cistern (The largest surviving Byzantine cistern in İstanbul).
Bosphorus boat trip (during this tour you will see the bridges of Istanbul, Dolmabahce and Beylerbeyi Palaces, Anadolu and Rumeli fortresses and beautiful houses around the strait)
Spice Market (17 century structure that housed the majority of the city's spice trade).
Overnight stay in Istanbul.
Day 4 : Fly to Cappadocia and Tour of Cappadocia

Driver will meet you in hotel lobby and transfer you to to airport for your Cappadocia flight.
After you arrive to Cappadocia, you will be transferred from airport.
You will have a tour of Cappadocia: Dervent Valley, Pasabag (some of the most interesting example of fairy chimneys), Avanos (handmade pottery center), Goreme Open-air Museum (ruins of churches carved into volcanic rock);
Overnight stay in Cappadocia
Day 5 : Tour of Cappadocia

Optional hot-air balloon ride early in the morning.
Cappadocia tour (Kaymakli Underground City - the most interesting examples among 36 underground cities, Uchisar - the highest point in the region with amazing landscape view, Pigeon Valley, Cavusin – one of the oldest settlements in the area).
Overnight stay in Cappadocia.
Day 6 : Fly to Izmir
Transfer to Kayseri airport to fly to Izmir.
Arrival to Izmir, transfer from airport to your hotel in Selcuk or Kusadasi.
Overnight stay.
Day 7 : Private Tour of Ephesus

Tour of Ephesus(the biggest collections of Roman ruins in the Eastern Mediterranean),
House of Virgin Mary (it is believed that the Mother of Jesus spent her final years in that house close to Ephesus)
Temple of Artemis (one of the seven wonders of ancient world).
During this tour you will have lunch in a local home in Sirince village.
You will meet a local villager who will prepare you a typical Aegean lunch and welcome you in her home.
Overnight stay in Kusadasi / Selcuk
Day 8 : Aphrodisias, Pamukkale, Hierapolis and Fly to Istanbul

Departure from Kusadasi / Selcuk and two and half hour driving to Aphrodisias, ancient city famous for its well preserved stadium.
After you visit this ancient city, you will have lunch and then proceed for one hour to Pamukkale. You will have 2-3 hours to visit Pamukkale and Hierapolis (during this tour you can enjoy the wonder of nature that is unique in the world and the ruins of the Roman spa city).
After the tour you will be transferred to airport to fly to Istanbul.
The Best Turkey Travel Guide for You!
Our Turkey travel guides are locals who have very good knowledge not only about the sights in the area, but also about the history of Christianity.

They are all fluent in English, and some of them guide also in other languages.

Have the best experience in Turkey with our expert local guides...