About Cappadocia 3 Day Itinerary
If you are planning to spend 3 days in Cappadocia, you can have a very comprehensive sightseeing which would include Green, Red and Blue tour
Cappadocia Itinerary 3 Days
Day 1 – Green Tour in Cappadocia ( South Cappadocia Tour )
After you meet your guide, your first stop will be Goreme Panorama, wonderful point for those who want to have the best view of Goreme town with its spectacular cave houses.
We will then start hiking in the beautiful Red / Rose valley for more than 1 hour. On this 4 km hiking route we will see fairy-chimneys, local farms, pigeon houses and cave chapels.
At the end of the hike we will have a quick stop in Cavusin, the old Greek village.
Your next stop will be Love Valley, where you can take amazing photos of pillar-shaped rock formations.
After lunch we will visit Kaymakli underground city; walking in underground cities is definitely one of the most interesting experiences in Cappadocia.
Your last stop will be Pigeon Valley, famous for its centuries old pigeon houses carved from the cliffs.
At the end of the tour we will transfer you back to your hotel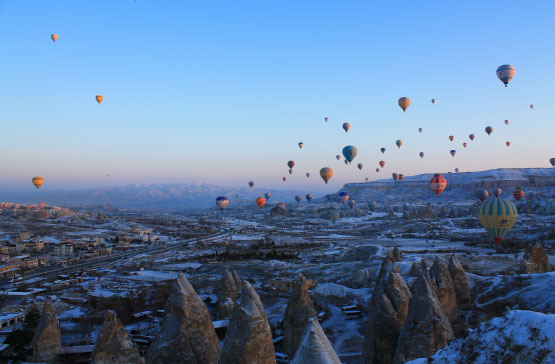 Day 2 – Red Tour in Cappadocia (North Cappadocia Tour)
During this tour you will first visit the Goreme Open Air Museum, a unique monastery complex and essential stop in Cappadocia.
Another place that you will visit is Pasabag or Monks Valley, famous for its mushroom shaped fairy chimneys.
After lunch, we will take you to Uchisar Castle, the highest and one of the nicest points of the area.
Devrent Valley or Imaginery Valley, famous for its lunar landscape will be the last stop during this daily tour, before we take you back to hotel.
Day 3 – Blue Tour
At the beginning of this tour we will take you to Mustafapasa, one of the largest Greek towns in Cappadocia.
The next stop is the Keslik Monastery, where you can see rare examples of iconoclastic frescoes.
We will then proceed to the excavation site of Sobessos in Sahinefendi, where you can see many important Roman artifacts.
After lunch, we will hike in Soganli valley to see many examples of typical cave churches.
At the end of the tour we will transfer you to your hotel.
Our Cappadocia tour packages are tailor-made to your interest. Prices depend on the group size and the tour program. Contact us for details.