5 Day Turkey Tour Of Istanbul, Ephesus and Pamukkale
Tour with local guides in Istanbul to Ephesus and Pamukkale. 5 Day Turkey Tour is a perfect  option for guests who would like to see the best ancient sites of  Turkey, meet the locals and taste the local cuisine.
You can arrange the accommodation yourself or we can suggest some hotel options, depending on your budget and preferred hotel standard.
5 Day Turkey Tour Itinerary:
Day 1: Arrival in Istanbul
After you meet your driver, you will be transferred from airport to your hotel in Istanbul.
Overnight stay.
Day 2: Istanbul Old City Tour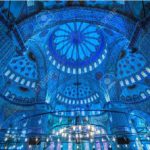 Guide will meet you in hotel lobby and take you to the walking tour of the Old City (Sultanahmet area):
Byzantine Hippodrome (used for public entertainments organised by emperors)
Sultanahmet Mosque (Blue Mosque, famous for its tiles)
Topkapi Palace (imperial residence of ottoman sultans)
Hagia Sophia (Church of Holy Wisdom, museum that used the be the biggest Orthodox church in the World)
Grand Bazaar (the oldest and the largest covered market in the world).
Overnight stay in Istanbul.
Day 3: Istanbul Tour and Boat Trip

Guide will meet you in hotel lobby and take you to another walking tour in Istanbul:
Archaeology Museum
Basilica Cistern (the largest surviving Byzantine cistern in Istanbul)
Bosphorus boat trip (during this tour you will see the bridges of Istanbul, Dolmabahce and Beylerbeyi Palaces, Anadolu and Rumeli fortresses and beautiful houses around the strait) and Spice Market (17 century structure that housed the majority of the city's spice trade).
Overnight stay in Istanbul.
Day 4: Fly to Izmir and Ephesus

Transfer to airport to fly to Izmir.
Arrival to Izmir. Guide will meet you at the airport.
Transfer from airport to Ephesus and tour: Ephesus, Virgin Mary`s House and Temple of Artemis.
During this tour you will have lunch in a local house in Sirince village.
You will meet a local villager who will prepare you a typical Aegean lunch and welcome you in her home.
After the tour transfer to Kusadasi and overnight stay.
Day 5: Aphrodisias, Pamukkale and Hierapolis
Your guide will meet you in hotel lobby.
After two and half hour driving you will first visit the ancient site of Aphrodisias, famous for its well preserved stadium.
Afterwards you will have lunch and then proceed for 1 hour to Pamukkale.
You will have 2-3 hours to visit Pamukkale and Hierapolis, a beautiful combination of Roman ruins and wonder of nature.
After the tour you will be transferred to airport to fly to Istanbul.
Some Questions
How can I spend 5 days in Turkey?
If you are planning to spend 5 days in Turkey, you can easily visit 2 of the highlight areas. You can combine Istanbul with Cappadocia, and Istanbul with the top attractions in the Aegean region (the ancient city of Ephesus, Pamukkale and Hierapolis, Pergamon and Asklepion)... You may prefer to spend 5 days in Istanbul, which would be a perfect city break, and you would have more than enough time to see how much this big city has to offer...
What is the best time of year to visit Turkey?
Most tourists visit Turkey between April and November, as in winter it can get very cold and rainy. Summer is also very hot in some areas, so maybe you should avoid Mediterranean and Aegean part in July and August, unless you are planning to enjoy nice sea and beaches in these regions...
How much money would I need for 5 days in Turkey?
The budget you would need depends on the time of year, your sightseeing plans etc. Prices in Turkey are generally lower than in Wester countries. Domestic flights are very affordable and hotel room rates are reasonable. Turkish cuisine is very rich and affordable.