About Istanbul to Cappadocia Day Trip
If you are in Istanbul and have only one free day to spend in some other part of Turkey, Cappadocia can be the best place to visit. This unique place is very popular among tourists from all over the world, and one day day tour can give you an idea about everything that Cappadocia has to offer. At the end of the day, you will return to Istanbul with plans about another Cappadocia trip...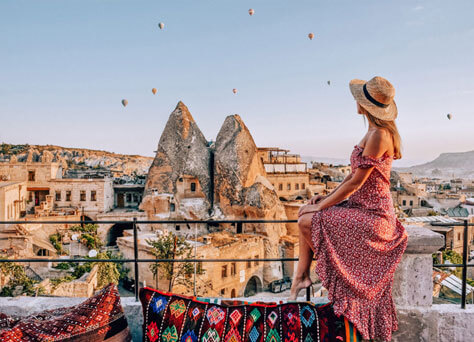 Tours from Istanbul to Cappadocia Itinerary And Further Details
Your  driver will pick you up from your Istanbul hotel and transfer you to airport.
You will fly to Kayseri and meet your guide at the airport; 1hr transfer to Cappadocia.
We will first enjoy the nicest view of the Uchisar Castle and the cone-shaped rock formations around it.
Your next stop will be one of the underground cities in the area, Kaymakli or Derinkuyu. Walking in these underground cities is probably one of the most interesting and unique activities in Cappadocia.
We will then visit Cavusin village, with its famous basilica of St. John the Baptist, cut into the cliffs.
After lunch, we will visit Avanos, both historical and modern center of pottery production in Cappadocia.
Our next stop is Pasabag or Monks Valley, where you can see some of the best examples of mushroom-shaped rock formations.
The last place you will visit is the highlight sight of the area, the Goreme Open-air Museum, a complex of cave churches and monasteries cut into the rock.
After the tour you will be transferred back to Kayseri/Nevsehir airport and fly back to Istanbul.
Your driver will transfer you from the airport to your Istanbul hotel.
Meeting location : Istanbul  Hotel lobby)
End location         : Istanbul Hotel lobby)
Duration                : 1 day

This is average tour duration; our tours are tailor made, so guests are free to decide about tour duration
Cappadocia Tour Prices:

Prices per person

Group of 1 pax 480 usd
Group of 2 pax 290 usd
Group of 3 pax 245 usd
Group of 4 pax 220 usd
Group of 5 pax 200 usd
Group of 6 pax 190 usd

Please contact us if there is more than 6 pax in your group.
Professional guiding service,
Transport (in a cozy van with a driver)
Parking fees and fuel
Local Lunch
Entrances
Return flight ticket Istanbul/Cappadocia/Istanbul
Private Transfers
Tips to the driver and guide (optional)
Dinner (we can arrange it per your request)